First things first! You will need to be using Google Chrome, preferably, to share your screen in BehaviorLive.
Onto the fun stuff...
There are a few ways to share your slides in Keynote.
Full Screen – To share a Keynote presentation, follow these steps:
Open Keynote on your computer and have your presentation ready. Share you screen and select 'your entire screen.' Navigate to the Keynote on your Desktop and then press play.
Your audience will see that beautiful full-screen presentation, and
You won't be able to see BehaviorLive.
Pro-Tip: Open your BehaviorLive event on another device during the presentation. This will allow you to still keep an eye on the chat :)
Window Mode – As of Keynote version 10.1, you can share your slides in "windowed mode". Make sure you have updated keynote to the latest version.
Choose "Play" Menu -> "Play Slideshow in window"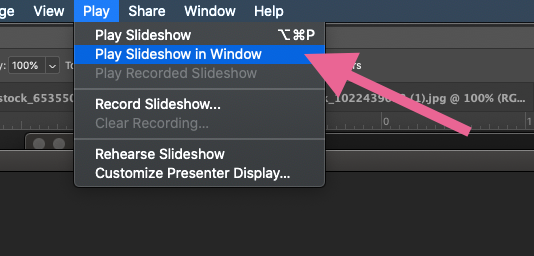 Now go back to BehaviorLive, hover over your video and select Share screen.

Then click Application Window and then select your PowerPoint Window.
That's it! Now you can see your slides and still keep an eye on the chat and Q&A to respond to comments and engage the audience in realtime.